When:
September 8, 2022 @ 2:00 pm – 3:00 pm
2022-09-08T14:00:00-04:00
2022-09-08T15:00:00-04:00
Where:
Marion Palace Theatre
276 West Center Street
Marion
OH 43302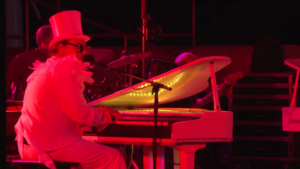 The Elton Experience by Tommy Lee Thompson will take place on Thursday, September 8, 2022 at 2:00 PM at the Marion Palace Theatre. This is a free General Admission event, due to the generosity of Fahey Bank and Aqua Ohio.
Tommy Lee Thompson started the Elton John Experience in Put In Bay Ohio in 2011 and has been entertaining audiences across the country with the show, opening for such acts as Bob Seger and the Silver Bullet Band, Marshall Tucker, Foghat, Humble Pie, and Sawyer Brown. The Elton John Experience brings to life the essence of Elton John's music and mannerism like no one else can.
"We are very excited to be back at the Palace with this amazing show" said Marion Popcorn Festival President Darl Snyder. "The name 'Popcorn Matinee' incorporates the afternoon performance and a nod to the treasured venue. We hope that anyone who wants to visit the Popcorn Festival during a quieter time will take this opportunity to explore downtown Marion during the festival and also enjoy this performance, which of course is free admission like the rest of our entertainment presentations."
New Popcorn Matinee sponsor Fahey Bank is proud to support the Marion Popcorn Festival. "We want to be at every milestone, every step of the way" stated Fahey Bank's Amanda Lynch, Vice President/Head of Retail.