When:
September 8, 2022 – September 10, 2022
all-day
2022-09-08T00:00:00-04:00
2022-09-11T00:00:00-04:00
Where:
The Brickyard
135 South Main Street
Marion, OH 43302
USA

Contact:
Mid-Ohio Fine Art Society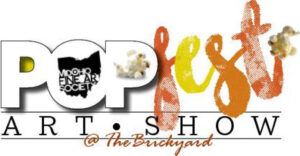 MOFAS 2022 POPFEST ART SHOW is a juried fine art competition held at the Brickyard, 135 South Main Street in Marion, on September 8th, 9th & 10th, 2022.
The entry fee is $10/piece for members of MOFAS and $20/piece for non-members with a limit of four pieces per artist. Checks should be made payable to MOFAS (Mid Ohio Fine Art Society). You can send your completed form and check to MOFAS, P.O. Box 459, Marion, Ohio 43302. Or, you may bring it with you when you drop off your artwork.
Media & Presentation:
Original work in all media is acceptable. No kits, bazaar items or commercial art will be accepted. Photographic prints from the artist's original image and processed by that artist or under her/his supervision are acceptable. All work must be framed and ready to exhibit with hanging wire (please, no sawtooth hangers). Please indicate the top of the piece so it is displayed correctly. For pieces larger than 36", please indicate size on entry form.
Exhibition Information:
Work will be accepted on Wednesday, September 7 from 3:00 p.m. until 5:30 p.m. Absolutely no entries will be accepted after 5:30.
If you did not pre-register (preferred), participants will need to come to the Brickyard to fill out the registration form and pay their entry fee/s.
Work must be picked up on Sunday, September 11 between noon and 2:00.
The show has a limit of 200 pieces. Entries are accepted on a first come basis.
Jurors, Categories & Awards:
All work will be judged by a panel of experts. Entry categories are:
Painting–Works created with fluid media in oils, acrylics, watercolor, etc.;
Drawing–Works created using dry media including chalk, charcoal, pastels, pencil, crayon, or, ink mediums, markers or washes applied by pen or brush;
Photography– Photographic prints; Sculpture–Three dimensional in any medium;
Mixed Media–Pieces that incorporate more than one type of physical material/medium to produce, including fiber art.
Artists may enter in multiple categories.
Judging of all entries will commence at 5:30 p.m. on September 7 with only the judges present. Judges will be required to follow current Marion County Health protocols. Once finished, the ribbon winners will be announced on the MOFAS website http://www.midohiofineart.wixsite.com/midohiofineart and on the MOFAS FaceBook page. Information will be shared with the local news agencies as well as Popcorn Festival officials.
Ribbons will be awarded to 1st, 2nd and 3rd places winners in each category. In addition, each category will have two merit awards. All 1st, 2nd and 3rd place winners will receive a monetary prize as well as the ribbon. There will be a Best of Show award, a MOFAS Award and the People's Choice. People's Choice votes will be accepted at the Brickyard during open hours. Votes are $1.00/each or 6 for $5.00.