On Friday, September 6, appearing on the Main Stage of the 39th annual Marion Popcorn Festival, at the corner of Church and Prospect Streets in downtown Marion, will be country-blues-rocker FRANKIE BALLARD steps on stage. Ballard released his latest album El Rio (Warner Nashville) to critical acclaim and was selected by Rolling Stone as one of the 25 Best Country and Americana albums of 2016 and The Tennessean as one of the best 16 Nashville albums of 2016.   The singer-songwriter has three #1 country hits to date and boasts Spotify streams in excess of  2.2 million.  With a combined album sales of over 450,000 to date with over 150 million total streams across all streaming platforms, Ballard continues to lead the lead country music mixing an American heartland rock sound with traditional country and blues.
Frankie Ballard's previous album, Sunshine & Whiskey, produced three consecutive no. 1 singles – the platinum-certified "Sunshine & Whiskey," the gold-certified "Helluva Life," and one of the Top 3 Billboard Country Airplay songs of 2015, "Young & Crazy."  He has performed on national television including Today, Live with Kelly, and Jimmy Kimmel Live. Ballard has performed and toured with Luke Bryan, Keith Urban, Bob Seger, Kenny Chesney, Lady Antebellum, Big and Rich as well as at festivals such as Summerfest, Tortuga Music Festival, CMA Fest, and many more.
El Rio was recorded at the famed Sonic Ranch, just south of El Paso in Tornillo, Texas, Ballard, band, and producer Marshall Altman left the comfort of Nashville in exchange for the opportunity to immerse themselves 24/7 creating this unique and fresh album. Rolling Stone describes the album as, "a different kind of album for the Michigan-born, Nashville-based songwriter, filled with country-rock anthems that have more in common with the heartland heroes of Ballard's youth — especially Bob Seger and John Mellencamp — than the outlaws and highwaymen whose names are so often cited by country music's younger class."  Ballard explains in the same article, "It's just my own brand of American music.  There's rock & roll. There's country stories and country lyrics and country songs. And there's a lot of blues swagger and blues guitar playing. It's all those things together."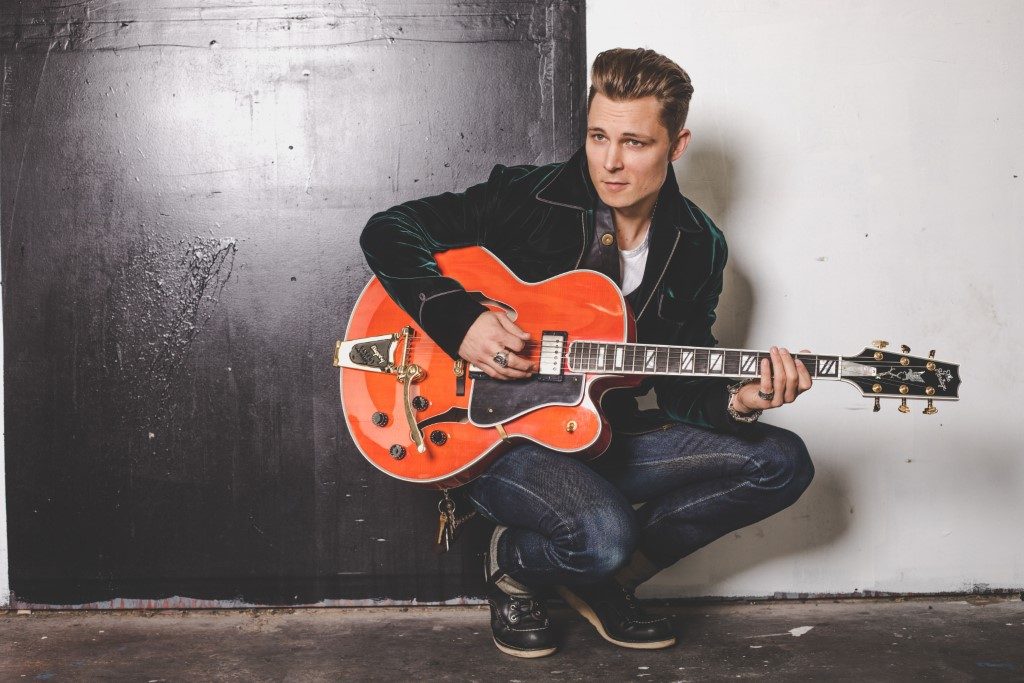 Taking the Main Stage Saturday, September 7. 2019 will be multi-platinum American rockers, HINDER, who continue to drive a career of longevity that few bands achieve. Their stats resonate just that, selling over 4 million albums and 10 million singles, garnering north of 150 million video views, and passing the 100 million streams mark. Throw on top the endless energy HINDER has brought to over 15 headlining tours and you can see why they are still rocking long since their formation in 2001.
August 11th of 2017 brought another career highlight. The release of their 6th Studio album, coincidentally titled THE REIGN, on The End Records/BMG. This would be their 3rd release with the New York based record label, preceded by HINDER's first ever acoustic EP STRIPPED on May 13, 2016. Their 5th full-length studio album When The Smoke Clears entered the Billboard 200 while also claiming four other Top 10 chart positions upon its on May 12, 2015.
As one of the few rock bands to grab massive cross-over success, HINDER's 2005 debut album, Extreme Behavior, climbed to #6 on the Billboard 200 chart and was the 2nd Top Rock Album. Get Stoned would be the album's first radio single, climbing to a #4 mainstream rock spot. What followed would end up being one of the biggest songs of the year, Lips of an Angel, which peaked within the top 10 across several Billboard singles charts, including #1 at Top 40 and Pop 100. Extreme Behavior has since been certified 3x Platinum. Their hometown inducted them into the Oklahoma Music Hall of Fame in 2007. In 2008 their sophomore effort, Take It To The Limit, surpassed their debut by peaking at #4 on the Billboard 200 and hitting the Mainstream Rock chart at #3 with single Use Me. This solidified HINDER as the biggest new breakout rock act and catapulting them into packed arenas worldwide with the likes of Aerosmith, Mötley Crüe, Nickelback, 3 Doors Down, Papa Roach, and many others. HINDER proved consistent record hit making by following up with a #1 Top Modern Rock/Alternative Album, All American Nightmare (LP 3), and a #3 Top Hard Rock Album, Welcome To The Freakshow (LP 5).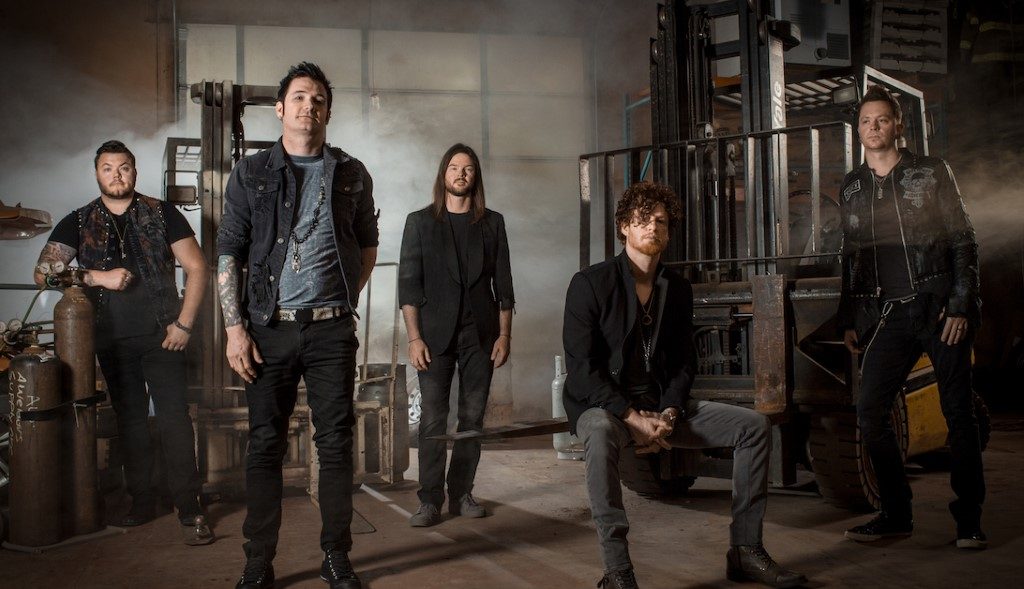 THE ULTIMATE METALLICA TRIBUTE, THE FOUR HORSEMEN, will be coming to the Marion Popcorn Festival and taking the stage on Thursday night, September 5. The Four Horsemen is the only studio-quality Metallica tribute in the Country. The band embraces the 'No Life Til Leather' attitude that made Metallica the Monsters of Metal during the 80s. The Four Horsemen deliver the ferocity of old school Metallica the way you heard it on the record and the way you saw it in concert in the 80s. They have performed before tens of thousands of people since 2004 and are constantly adding new cities to their schedule; they play the songs you know and love.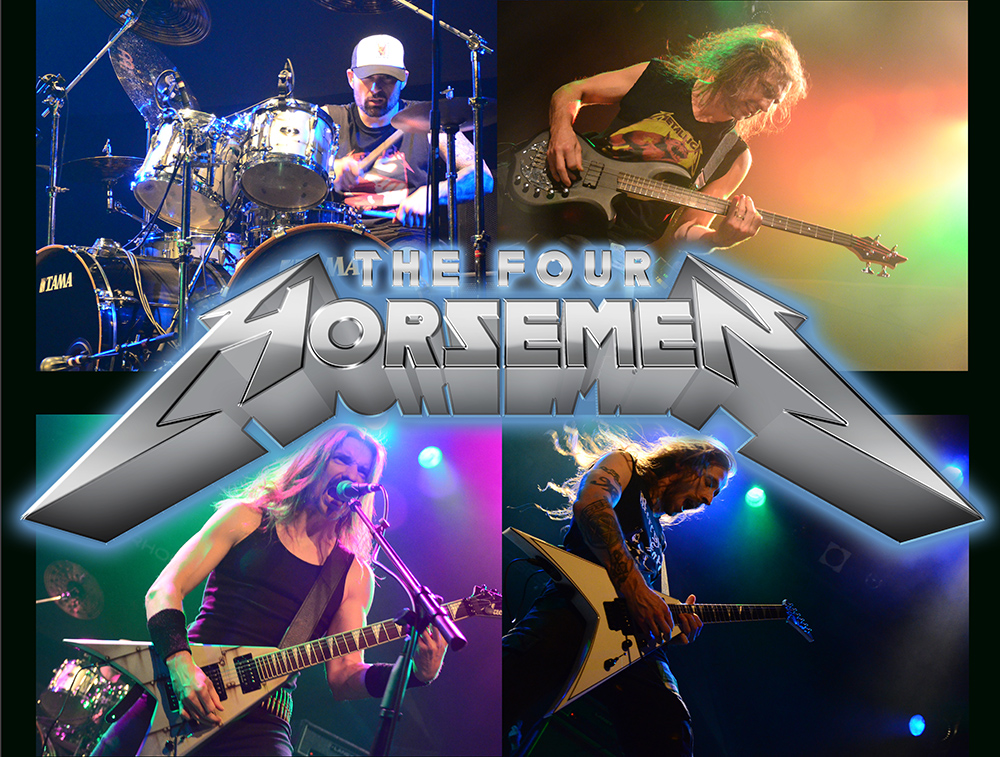 The Four Horsemen consists of Sean Perry, who embodies the guttural vocals and head-banging thrash energy of a young James Hetfield with the wit and sarcasm that made James infamous; an instant standout of the times. Mikey Kaufman is a guitar prodigy and effortlessly nails Kirk Hammett's solos and brings a ton of head-banging and charm to the stage as he is always interacting with the crowd with a huge smile. Matt Akins holds down the tremendous task of filling the shoes of Cliff Burton and Jason Newsted and you can instantly hear he's up for the challenge when he is playing. Drew Pencook is an Emmy Award Winning Drummer. He loves Lars Ulrich's unique style. Perfection … every hit, every fill, all the double bass – it all has to be there or he is not happy. Drew was the last piece to embrace the role the way it needed to be done.
The Four Horseman are a stand out that is instantly obvious when you see their show. They are always developing, looking for ways to add to their stage show energy and expand their reach to new areas. They obsess over the finer details of the songs and bring a large amount of production equipment with them to give the crowd a visual presentation that is in step with many national acts. When you see The Four Horsemen's stage set up, you know you're in for one hell of a show.
OPENING FOR THE FOUR HORSEMEN, AS WELL AS BEING THE BIKE NIGHT OPENER, will be Upper Sandusky's own, Grape Jam. This group delights in sharing good vibes with multi-genre covers, sultry originals, and seductive harmonies!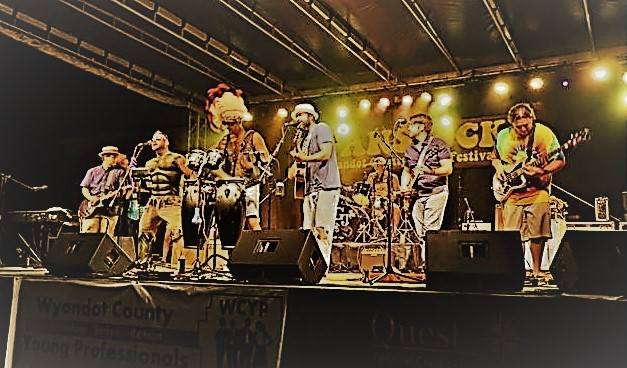 In 2015, Grape Jam "fermented" as an experimental jam band at White Shutter Winery near Upper Sandusky, OH. The band is a group of old friends who play music for the pure joy it brings. Grape Jam delights in experimenting with different styles of music, plays acoustic or electric shows big and small, gets together for improvised jam sessions and in 2016 a horn section was added.
With a dynamic tempo, groovy vibe and rich song choices, Grape Jam gets people on the dance floor, singing along and joining in the fun. The band features keys, meandering guitar solos, harmonica, bass riffs, sax, trumpets, flute, bongos, uke and more. Grape Jam plays a wide-range of music from multiple genres ranging from the 50's through today.
The 2019 dates of the Marion Popcorn Festival are September 5, 6 and 7. All performances on the Festival's main stage begin at 8:30 p.m. and are free of charge. A limited number of Kernel sponsorship seats are available for any of the Main Stage performances by calling 740-387-FEST. Other events include the Popcorn Parade with over 300 units, a popcorn cooking contest, fine arts show, crafts, corn hole, Community Showcase Stage, Poppin' Party stage and much more.