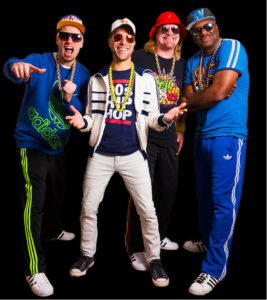 The Main Stage Opening Acts at the 2022 Marion Popcorn Festival are now set. Sponsored by Buckeye Community School, Old Skool is performing Thursday September 8th before the appearance by Katmandu -The Premier Bob Seger Tribute Band. On Friday, September 9th is Knight After Knight, opening for multi-platinum Country artists Parmalee. And on Saturday September 10th is Sneaky Pete and The Players, opening for rock legend Lita Ford. All opening performances begin at 6:00 PM, followed by Opening Ceremonies Sponsor Recognition and the headline artists at 8:30.
Originating in Cleveland in 2013, Old Skool has earned the reputation of being one of the tightest, most fun, high energy acts ever witnessed in the region. Included in Scene's "Best of Cleveland" (Best Cover Band) OLD SKOOL takes a fresh approach to the flow of the live show, often featuring hard hitting songblocks, mashups, and medleys that are usually only attempted by the best of DJs. Combine this with choreographed stage moves, throwback style costuming, and top-notch musicians playing the songs just like the record, and you'll see why Old Skool is sure to please live music enthusiasts and dance crazed club goers alike. With an ever-evolving song list, they'll rock anything with that "Old Skool" flava. Paying true to form tribute to the '80s & '90s Golden Age of Hip Hop, R&B, Dance, Pop, Rock, Funk, and even some classic Disco or Current Hits if the mood is right.
Check them out at www.oldskoolcle.com. With locations in Mansfield, London and now Marion, Buckeye Community School serves students ages 14-21 as an alternative to your traditional high school. Visit www.buckeyecs.org for more information.
Knight After Knight is a talented Marion-based musical group headed by Tamela Knight and Larry Knight. Tamela was named "2016 Female Vocalist of the Year" and the "2016 Most Promising Female Entertainer of the Year" by North America Country Association International. Knight After Knight covers several music genres and also performs their own original songs.
Sneaky Pete and The Players is a high-energy 5-piece cover band comprised of seasoned musicians playing rock hits form the '70s to today. They play extensively in the Marion area and will also be rocking the Marion Popcorn Festival's "Poppin' Party Stage" on Friday evening.