Poppin! Scawager Quest, combo scavenger hunt & amazing race, a Marion Popcorn Festival fundraiser, is set for October 24, 2015. Starting at the Harding Memorial and ending at Bluefusion, your team will solve riddles and clues, compete in challenges, and, if you are the winning team, earn $200.
We are looking for teams of 2-4 to participate (at least one must be over 21) in this 2 hour event (7:00-9:00pm). The event is limited to only 120 participants so make sure you register quickly.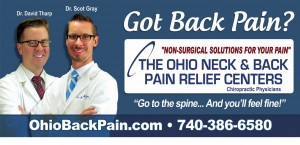 Save $10 a team ($35 team) if you register and pay at the festival September 10-12, 2015. Otherwise fee will be $45 team.
Deadline for registration is October 17, 2015.
This event is sponsored by Dr. Scott Gray at The Ohio Neck & Back Pain Relief Centers.