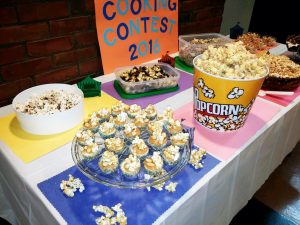 Josette Schaber's Chocolate Caramel Popcorn Cupcakes took the top spot in the Marion Popcorn Festival's 2016 Recipe Contest.  She received cash and prizes worth $200.
Taking 2nd place was Paytn Smith with her Popcorn Infused Cheesecake with a Salted Caramel Popcorn Topping.  The youngest to have ever entered the contest, Smith's goal is to be a chef one day.  She garnered $100 in cash and prizes.
Third place honors went to Carol Ault for her snack-inspired Under the Big Pop entry.  She took home approximately $50 in cash in prizes.
This was a traditional cooking contest where the finished product must be edible and must contain popcorn.  The recipes do not need to be original, but the original source must be listed.  Judging was based on the use of popcorn, flavor, creativity, and appropriateness to the food.
The committee of the Marion Popcorn Festival's Cooking Contest honored long-time chair of this event, Mary Longo, who was unable to participate this year due to health issues.  Longo helped conceive this event and organizers hope she will be able to participate again in 2017.
The event was organized and chaired by Sherry Hutchins at the Ohio State University Extension Office at 740-223-4040, and sponsored by Coldwell Bander Realty – Robert Baer Realtor.
For more information, browse our web site, "Like" The Marion Popcorn Festival on Facebook, or call 740-387-FEST.   The Marion Popcorn Festival is sponsored in part by the City of Marion.